ADOBE REAL-TIME CUSTOMER DATA PLATFORM
Adobe Real-Time CDP turns data into loyal customers.
Real-Time CDP collects B2C and B2B data from across systems and unifies it into real-time profiles ready for activation across any channel.
Customer data platforms improve customer experiences.
Customer data in different systems leaves organizations struggling to understand their customers and deliver consistent, personalized experiences. Adobe Real-Time CDP fixes this by unifying data — including behavioral, transactional, and known data — from across systems and devices to reveal clear, complete customer profiles.
Adobe Real-Time CDP — built for personalization,
collaboration, and endless growth.
One-to-one experiences at scale
Real-time B2C and B2B profiles with instant activation and personalization for every customer across every touchpoint, every time.
First-party data collaboration
Build privacy-safe partnerships and share first-party data to get a better understanding of your customers without cookies.
Patented data governance framework and HIPAA-readiness gives teams control and confidence to market responsibly, while ensuring customer privacy and preferences are honored.
A flexible, connected foundation
Powered by Adobe Experience Platform, Real-Time CDP offers unmatched connections with Adobe and third-party apps for future-proof customer experience management.
Check out the advanced features of Real-Time CDP.
Real-time activation across any channel.
Ensure consistent, relevant customer experiences through real-time activation across channels and devices.
Prebuilt B2C and B2B integrations let you activate in real time.
Customer behaviors trigger automated responses and campaigns.
Streaming destinations ensure relevant experiences in milliseconds.
Paid media retargeting, suppression, and prospecting.
Profiles built from streaming data collection.
Enriched, privacy-ready consumer and account profiles update automatically based on behavioral, transactional, and operational data without manual data stitching.
 
Data collected from across channels and systems is normalized into a standard taxonomy.
Tag management and event forwarding manage data in real time.
Person and account-level identity resolution and profile enrichment.
Optimized profiles accelerate experience delivery.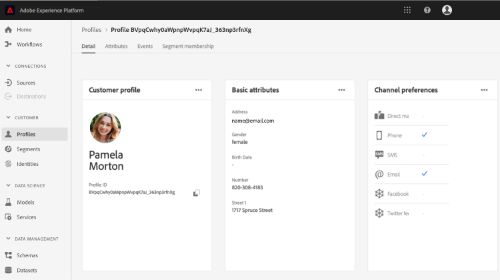 Rapid data collection and distribution.
Collect, enrich, and distribute data at incredible speed and scale to jumpstart your customer experience management
 
Hundreds of prebuilt connections and the ability to build custom integrations allow you to connect data from virtually anywhere.
Go from setup to data distribution in hours, not weeks, with Real-Time CDP Connections.
Streaming ingestion means profiles are always up to date and ready for activation.
Server-side event forwarding with Real-Time CDP Connections sets you up for a world without cookies.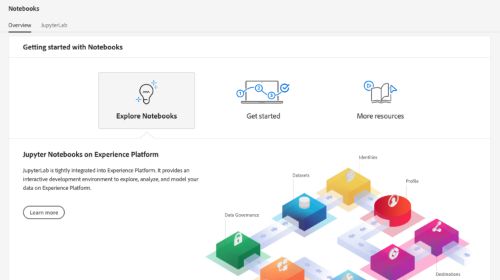 Patented privacy and data governance tools.
Inspire customer trust and loyalty with advanced data governance tools that keep data secure while giving appropriate access to teams across the organization.
Preset and customizable data governance framework gives you peace of mind.
Data source labeling and policy creation ensure compliance.
Automated enforcement prevents policy violations.
Convenient data lineage allows for easy modification.
AI-driven insights at the profile level.
Improve segmentation and personalization with predictive propensity scores and contextual insights from AI and machine learning.
B2C propensity scores, insights, and predictions and B2B lead prediction and account scoring.
Customer churn and conversion predictions at the individual level with explanations.
Customizable options for unique use cases.
Actionable and accurate insights gathered from every customer interaction using AI.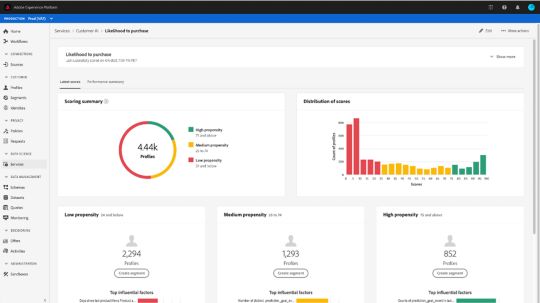 Consumer and account profiles.
Support both your B2C and B2B business with the only CDP that gives you unified, actionable person and account profiles.
Person, account, and hybrid customer profiles based on both consumer and professional attributes and behaviors.
Consumer and account-based segmentation.
Prebuilt B2C and B2B marketing and advertising integrations.
Data schemas designed for B2C and B2B marketing.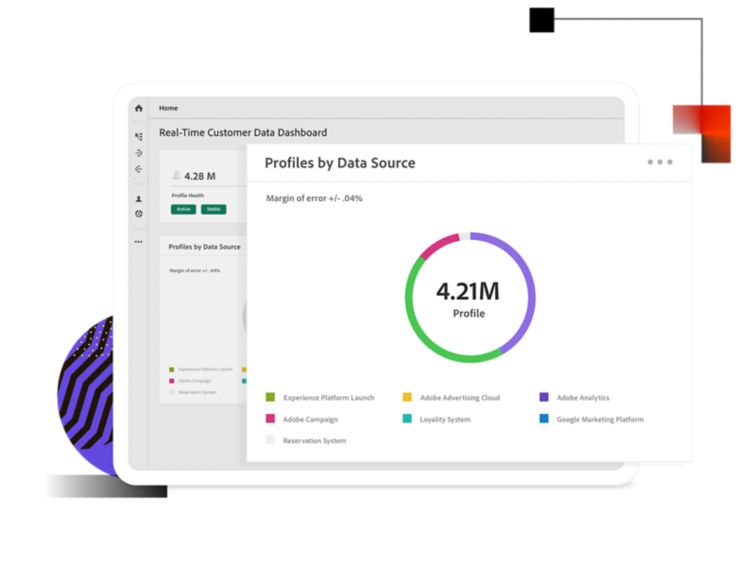 What makes Adobe Real-Time CDP different.
Real-time profiles that are ready for activation across channels let you deliver relevant, up-to-the-moment experiences.
Patented data governance framework ensures customer privacy and preferences, enables compliance with internal and external policies, and gives role-based access to teams across the enterprise.
Privacy-safe partnerships and first-party data collaboration takes your strategy into a cookieless future.
Hundreds of prebuilt and customizable connections to create truly complete profiles.
A single solution to create and manage B2C, B2B, and hybrid profiles.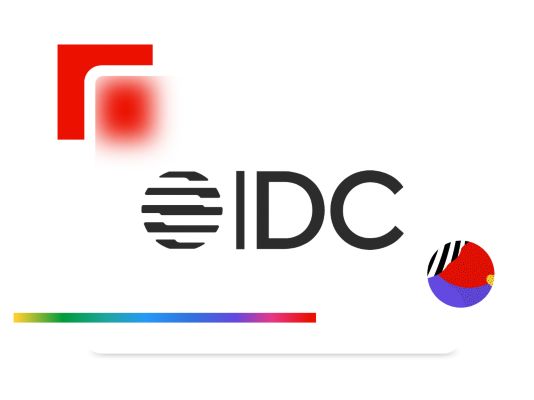 Adobe is named a Leader in the IDC MarketScape report.
Citing innovation and advanced features, IDC called Real-Time CDP a strong choice, especially for enterprise organizations.
Marketers get easy personalization. IT gets peace of mind.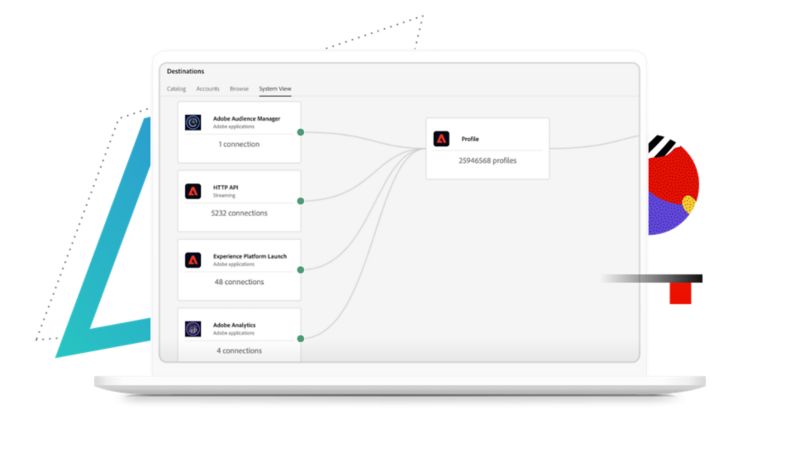 Personalization at scale within reach.
Real-Time CDP gives marketers the data management tools they need to deliver consistent personalization across channels.
Easy-to-use interface and AI-driven workflows.
Prebuilt integrations across Adobe applications like Adobe Journey Optimizer and Adobe Customer Journey Analytics and channels like social, email, in-app, on-site, and more.
Real-time customer profiles to power great experiences.
Built to incorporate new marketing channels and technology.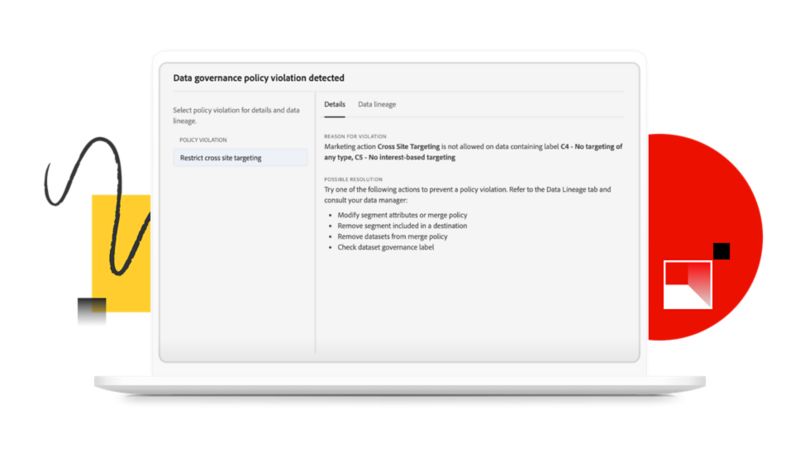 IT is tasked with keeping the entire organization functioning while protecting it from threats — both malicious and accidental.
Powered by the API-based Adobe Experience Platform, Real-Time CDP integrates with any tech stack — existing or future.
A flexible and configurable data governance framework keeps data safe while giving teams the access they need.
Profiles are accessible to internal and external partner systems, allowing for easy adoption and use-case expansion.
"Our expanded partnership with Adobe will enable us to enhance the customer experience even further, driving personalization at scale and further optimizing The Home Depot experience across online and in-store."
Melanie Babcock, Vice President of integrated media at The Home Depot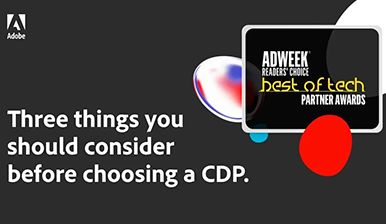 Three things you should consider before choosing a CDP.
A real-time CDP turns marketing's three biggest challenges into opportunities.
The foundation of digital business is trust.
Today's digitally savvy consumers expect companies to step up as trust leaders.
Solving the Customer Data Platform problem
Real-Time CDP lets marketers unify data from all sources and systems and activate across channels in the moment.